Spine fractures
What are spinal fractures?
A spinal fracture is when you break a bone in your spine—that's the basic definition. Spinal fractures are different than a broken arm or leg. A fracture or dislocation of a vertebra can cause bone fragments to pinch and damage the spinal nerves or spinal cord.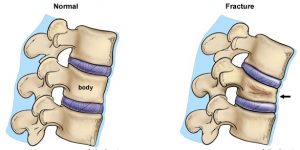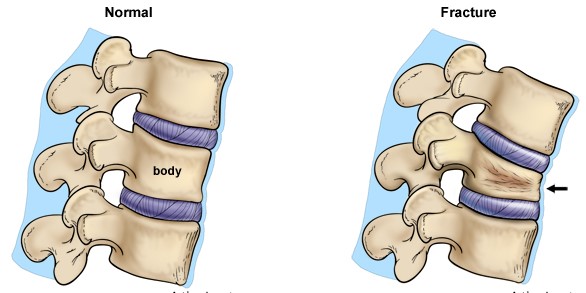 What causes the fracture?
When an external force is applied to the spine, such as from a fall, the forces may exceed the ability of the bone within the vertebral column to support the load. This may cause the front part of the vertebral body to crush, resulting in a compression fracture. If the entire vertebral column breaks, it results in a burst fracture.
If the compression is mild, you will experience only mild pain and minimal deformity. If the compression is severe, affecting the spinal cord or nerve roots, you will experience severe pain and a hunched forward deformity (kyphosis).
Osteoporosis is the most common risk factor for fractures, as the disease causes bones to weaken.
What are the symptoms?
Symptoms of a spinal fracture vary depending on the severity and location of the injury. They include back or neck pain, numbness, tingling, muscle spasm, weakness, bowel/bladder changes, and paralysis. Paralysis is a loss of movement in the arms or legs and may indicate a spinal cord injury. Not all fractures cause spinal cord injury and rarely is the spinal cord completely severed.
How is a diagnosis made?
X-ray
Computed Tomography (CT)
Magnetic Resonance Imaging (MRI)
What treatments are available?
Medical Treatment
Most fractures are treated with immobilization in a brace or corset for up to 12 weeks. Bracing helps to reduce pain and prevent deformity.
Surgical Treatment
Severe cases may require surgery.
Vertebroplasty is a new surgical procedure that may be used to treat compression fractures. In this procedure, the surgeon inserts a catheter into the compressed vertebra. The catheter is used to inject the fractured vertebrae with bone cement, which hardens, stabilizing the vertebral column. This procedure has been shown to reduce or eliminate fracture pain, enabling a rapid return to mobility and preventing bone loss due to bed rest. However, it does not correct the spinal deformity.
Kyphoplasty involves inserting a tube into the vertebral column under X-ray guidance, followed by the insertion of an inflatable bone tamp. A tiny incision is made in the back. Once inflated, the tamp restores the vertebral body back toward its original height, while creating a cavity to be filled with bone cement. The cement seals off cracks and cavities, and prevents the vertebra from re-collapsing. After the cavity is filled, the tube is removed and the incision stitched.
Stabilization can also be achieved by removing broken vertebra and replacing them with a plate, screws, or cage.